What's old is new, again.
At least, that's how it seems with companies selling "cures" or "treatments" for tinnitus.
I swear, these guys seem to be deliberately trying to get me to click on their ads so that I can write about them here and they're not even coming up with a new way of doing it, just rehashing old methods. I guess if it worked before, why not do it again, right?
Here We Go
I recently discovered a new product called "The Silence Complete", which is a rather odd-sounding name. Whatever.
They have three websites: thesilencecomplete.org and silencecomplete.com and silencecomplete.net. Going to any
site lands you on a page where a video begins playing automatically. A man's voice begins tel
ling you his Tale of Woe where he was about to kill himself because tinnitus was making Life unbearable. I immediately recognized this tactic from researching my blog post for
NoiseAway
. In the NoiseAway recording, the man was going to shoot himself while he was alone in his basement; in the Silence Complete story, he was about to kill himself in front of his family.
Okay, I've heard of people driven to extremes because of the stress of living with tinnitus, but what are the odds of two such people developing a treatment for tinnitus? Amazing, isn't it?
Like
every
other tinnitus "cure", they claim that their product is natural and inexpensive, which would make it more appealing to people who are short of cash and also don't want to put what they fear to be harmful chemicals into their bodies. This is an old tactic that is based on the false belief that Big Pharma is making big bucks from selling ineffective drugs to people living with tinnitus and doctors are financing their next mansion by performing expensive and risky surgeries. I must mention
again
that no
drugs or surgeries are prescribed to treat or cure tinnitus
, though there are some therapies and medications used to help people handle the stress. For some people, like myself, it isn't too bad and they can get accustomed to it. For others, it can be debilitating and these are the people being targeted by these snake oil salesmen.
Who Are These People?
On the Silence Complete website, at the very bottom, it says:
The website is property of Guerra Capital, Inc
11504 County Road 71 Lexington, AL 35648, USA
A Google search of that address reveals nothing but an empty field. So, I Googled the name "Guerra Capital" and also found nothing. Finally, I tried "Guerra Lexington Alabama" and discovered that Silence Complete had put the wrong address on their site (it's
11054
County Road 71 Lexington, Alabama) and the company listed at that address is
Guerra Holdings
, of which
Guerra Capital
is a subsidiary. Guerra Capital describes itself thusly:
Guerra Capital Asset Management is a boutique wealth management firm that crafts customized investment solutions for high net worth individuals, families, and institutions. Beyond stewardship, Guerra Capital's aim is to grow wealth by selecting the right balance of asset classes tailored to reflect each of our clients' investment aspirations.
So, why would an investment company have anything to do with a tinnitus treatment? I don't know. But, other things I've discovered make me doubt if Guerra Capital has anything to do with Silence Complete. Keep reading.
Doing a WhoIs search on the website thesilencecomplete.org
reveals
that it is registered to
Functional and Restorative Medicine LLC
, the same people who brought us
Silencis Pro
.
However, both silencecomplete.net and silencecomplete.com are
registered
to John Curly of Guerra Global Management Services. I noticed that the WhoIs listings give the
correct
address, unlike the website, though they spelled "management" wrong, and the organization is "Guerra Global Management Services", not "Guerra Capital, Inc", which is on the website. These are rather minor differences, but you'd think that a professional would do a better job of it when they registered a website.
Registrant Name: John Curly
Registrant Organization: Guerra Global Managment Services
Registrant Street: Inc 11054 Country Road 71
Registrant City: Lexington
Registrant State/Province: AL
Registrant Postal Code: 35648
Registrant Country: US
Registrant Phone: +1.0000000000
Registrant Phone Ext:
Registrant Fax: +1.0000000000
Registrant Fax Ext:
Registrant Email: tech@lionpublishinglimited.com
"But, wait!" you say, "Who or what is lionpublishing.com?". I'm glad you asked, dear reader.
LionPublishing.com is an e-commerce site that's behind HealthPlusLabs, a naturopathic supplement company that also sells Silencis Pro. What an amazing coincidence!
Lion Publishing claims to have offices in Gibraltar and Bucharest, both of which are far outside the jurisdiction of the United States. It's hard to verify anything about these people, especially since their website is
registered
anonymously and while the registrant's email address is given as tech@lionpublishinglimited.com, lionpublishing.com's website gives it as curly@lionpublishing.com and we're left to wonder if John Curly is really the person who registered those two sites for Silence Complete.
If you're wondering if Lion Publishing is also the registrant for any other Guerra websites, they're not. Both guerraholdings.com (
WhoIs
) and guerracapital.com (
WhoIs
) are registered to Francisco Guerra, through GoDaddy. His companies, his websites.
Why does it look like the same people behind Silencis Pro are now marketing Silence Complete, but seem to be trying to give themselves legitimacy by claiming to be affiliated with Guerra Capital, a company that doesn't have any obvious links to naturopathic supplement companies?
Wow. This smells so fake!
Update for 7 February 2018
Two of the above websites have changed the address listed at the bottom of their respective pages and a third has corrected the erroneous address that had been posted.
Both thesilencecomplete.org and silencecomplete.net now have this address posted at the bottom of their homepages:
Functional and Restorative Medicine LIMITED
7/10 Chandos Street, 4th Floor
That address is apparently shared with
other companies
, so I'm assuming that it could just be a mail drop.
There has been a slight revision of the address posted at the bottom of the homepage of silencecomplete.com which makes me wonder if someone had forwarded to them a link to this blog post. The address mentioned above has been changed to
The website is property of Guerra Global Management Services, Inc
11054 Country Road 71 Lexington, AL 35648, USA
Just like Silencis Pro using a stock photo and passing it off as one of their staff, Silence Complete does the same thing with this picture.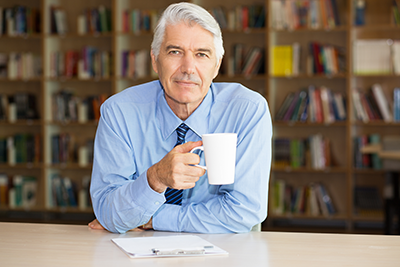 This is supposed to be Lloyd Greenfield, the man speaking in the video and who is supposed to be
A skilled academic profesional with over 10 years of in-depth expertise in the field of breakthrough medical and alternative tinnitus research.
Funny, how they can't correctly spell "professional". It's actually a stock photo that has been used many times by others. You can find it on
ShutterStock
and it's called "Portrait of confident senior man with mug".
But, the use of such photos doesn't end with "Lloyd", it even includes
all three pictures
The Silence Complete claims to be of satisfied customers:
The picture of "Catherine M from New York" turned-out to actually come from a
Polish website
related to cosmetics and is probably itself lifted from Shutterstock.
This photo supposedly of "David R from North Dakota" is
widely used
across many sites under various names across the Internet including a guy named Tom who works at a
mortgage company
in Florida. This picture was also used for a supposed "review" on
another site
under the name Tim Pollard-Smith of Camberley, Surrey. I didn't have the time to track it down to its original source, but that doesn't matter anyway.
Like David above, the picture of "Melinda V from San Francisco" is also commonly found being used
across various sites
, including a YouTube channel under the name
Ansel Grady
. This picture was also used for a supposed "review" on
another site
under the name Claudia Treforde of Marlow, Berkshire.
It Keeps Getting Better
The address where you are directed to send unused product for a refund is the same as Silencis Pro: 37 Inverness Drive East, Suite 100, Englewood, Colorado, 80112 and the people on the receiving end is ShipOffers, just like Silencis Pro.
Ordering a bottle of
snake oil
Silence Complete comes with a disclaimer that is repeated several times across the website
The products and claims made about specific products on or through this Site have not been evaluated by the United States Food and Drug Administration and are not approved to diagnose, treat, cure or prevent disease.
This Site is not intended to provide diagnosis, treatment or medical advice. Products, services, information and other content provided on this Site, including information that may be provided on this Site directly or by linking to third-party websites are provided for informational purposes only. Please consult with a physician or other healthcare professional regarding any medical or health related diagnosis or treatment options.
So, they demonize doctors and the pharmaceutical industry out of one side of their mouths, yet admit out of the other side that doctors are the only real authorities for diagnosing or treating disease.
Oh, and the statements made on the site are for "information purposes only". Way to stick to your guns, boys!
Their "Money Back Guarantee"
Some people may be thinking about ordering this product, despite everything I've stated in this post. After all, they promise to refund your money if you're not satisfied, right?
Don't be too sure about that. I found this "review", which is more like an advertisement and scrolled down to the Comments section, in which several people who ordered the product and still had no relief tried to get their money back. Some did, while others weren't so lucky. You can
read them
for yourself.
A Final Word or Two
I'm going to contact Guerra Capital to see if they know anything about Silence Complete claiming that Guerra owns the website. It would be interesting to see how they react if don't and I'm the first person to inform them.
UPDATE:
I contacted them via email and have not received a response.
I'm not sure how sales of Silencis Pro have been doing, but I find it interesting how the people behind this felt the need to also market a second product. It's almost like Silencis Pro wasn't selling well enough, so they're trying something else.
Either way, you can ignore these fakes.
Duane Browning